WWS-3828 Wireless Weather Station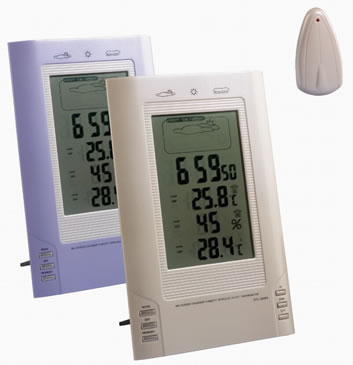 WWS-3828 Wireless Weather Station
With outdoors temperature receiver
THERMOMETER AND HUMIDITY
Function:
1. Big LCD display the time, temperature in/out door, humidity in door
Set 12/24 Hrs
2. 2 group alarm system lasts for 1 minute
temperature indoor
Humidity indoor
3. Sampling cycle is 20 seconds for the temperature and humidity indoor it is 40seconds for
temperature outdoor
4. Unit hang on wall



KEY-PRESS FUNCTION:
1. MODE: switch time-alarm1-alarm2
2. SET: press it 2 seconds enter into setup time and alarm, change the setup position.
3. UP: increase by degrees when setup. Turn on/off alarm function in alarming.
4. ℃/℉Switch ℃ and ℉ in timing; Press it 2secs to receive the outdoor temperature signals.
Temperature indoor:
1. Humidity indoor: O% -95%(±5%)
2. Sampling cycle is 20 seconds for the temperature and humidity, indoor, it is 40 seconds for
temperature outdoor
3. range is -20.O℃ - 90.0℃ (±1℃)
4. select the default temperature℃ or ℉
Dimension: 16.8*22.8*3.2CM
Packing: @40pcs/ctn,51.5*33.2*54.2cm, G.W.:16KGS